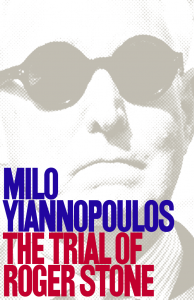 NEW YORK—The Trial of Roger Stone by award-winning investigative reporter Milo Yiannopoulos is available for pre-order today, with a release date of March 1, 2020. The book is presented by Dangerous Books, publisher of Yiannopoulos's New York Times-bestselling smash hit, Dangerous, the most remarkable literary success of 2016.
In this moving, eyewitness account of Roger Stone's trial and his decades-long career of political chicanery, author and Stone intimate Milo Yiannopoulos introduces America to the man behind the myth—and explains how the biggest stitch-up in modern judicial history unfolded.
In The Trial of Roger Stone, Yiannopoulos offers a plea to President Trump to step in and do the right thing. Finally, he explains how we can prevent such grotesque injustices from happening ever again by reforming the absurd special counsel system.
Yiannnopoulos said: "The Mueller Report was a catastrophe for the malevolent forces desperate to impeach President Donald Trump. It failed to prove any collusion between the Trump campaign and Russia.
"Since then, many of the President's former advisors and associates have been subjected to vindictive, political prosecutions for a variety of trivial, unrelated offenses. Roger Stone is one of them."
The author is donating all royalties from the sale of The Trial of Roger Stone, priced at $19.99, to the Roger Stone Defense Fund.
Milo Yiannopoulos is an award-winning journalist, a New York Times-bestselling author, an international political celebrity, a free speech martyr, a comedian, an accomplished entrepreneur, a hair icon, a penitent and, to the annoyance of his many enemies, an exceedingly happy person. He is the most censored, most lied-about man in the world, banned from stepping foot on entire continents for his unapologetic commitment to free expression.
His first book, Dangerous, sold over 200,000 copies, despite never being reviewed in any major publication. Milo lives in New Jersey with his husband, John. He hosts Friday Night's All Right, a weekly late-night chat show, on CENSORED.TV.