Omar Navarro, a fringe Republican candidate known for repeatedly losing by huge margins to Maxine Waters, said black and Mexican voters can be "told to do anything," claimed he was open to running as a Democrat if it improved his chances of winning, and appeared to admit he was only in politics for the financial rewards, according to leaked private messages circulating online. He also joked about using tasers on voters in the "ghetto."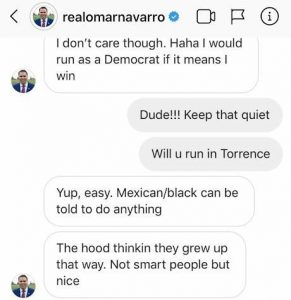 Publicly, Navarro claims that pro-life Hispanic voters will turn out for him because he shares their social conservatism. But privately, Navarro calls those same voters unintelligent and easily manipulated. "Mexican/black can be told to do anything," Navarro wrote in private messages on the Instagram platform. "The hood thinkin they grew up that way. Not smart people but nice," he added.
His interlocutor, who has not been identified, is seen cautioning Navarro against making such inflammatory and racist statements, given that he is a candidate for office, and advising Navarro to delete the messages. "Ok ya," replies Navarro. "Gonna start fundraising soon."
 
The candidate is also heard, in separate leaked audio provided to this publication, doubling down on his views of Mexican and black voters by calling "Mexican and black ghetto" voters "dumb," vowing to "take their money" and discussing the use of campaign funds for his own private investment in Bitcoin.
In the audio recording, Navarro is heard joking about using his "taser" on ethnic minority voters. In the same recording, campaign aide Mike Tokes describes a "baby gun" he is carrying that might expose him to ridicule in the "ghetto" if he were to pull it on black or Hispanic voters.
In a second audio recording, during a conversation about campaign contributions, a female voice asks, "So you can use campaign money to invest in stuff?" Tokes responds, "Yes, you can." Navarro and Tokes then discuss using a Delaware charity to shield themselves from accountability to their donors. "If your charity makes a million dollars … you just made a million bucks," adds Tokes.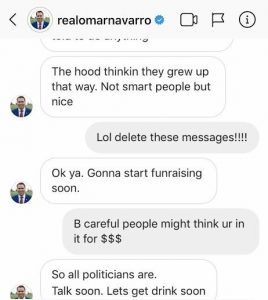 Navarro is already facing questions about salary payments totaling nearly $25,000 made to him from the Omar Navarro for Congress committee in what has been described by Kathay Feng, executive director of California Common Cause, as a "highly irregular" arrangement. Candidates for office do not ordinarily pay themselves a salary from campaign money.
In the leaked Instagram messages, which date to November 2018, Navarro is admits that "all politicians are" in it for the money, and that he "would run as a Democrat if it means I win."
 
The two recordings and the leaked Instagram screenshots are coming to light because Navarro found himself in a spat with the "western chauvinist" organization the Proud Boys. One of Navarro's ex-girlfriends is alleged to have dated a member of the organization, which sent Navarro into a fit of rage. The candidate was later expelled from a Washington, D.C. free speech rally. In retaliation, he began to contact Left-wing journalists, alleging illegal drug use at Proud Boy events.
Navarro has attended many such Proud Boy events himself in the past, including one in Las Vegas at which "mountains of cocaine were consumed and clearly visible everywhere," according to one attendee, which begs the question why Navarro is suddenly objecting now to alleged drug use by Proud Boy members. Photographs exist of Navarro at the event, in which drug taking can be seen in the background.
The messages we publish today may well spell the end of Navarro's political aspirations. His flailing and ineffectual campaigns against Maxine Waters are already the subject of widespread ridicule. Waters' campaign staff, who responded with incredulity when we shared these messages and audio recordings with them ahead of publication but declined to comment on the record, have never considered Navarro an electoral threat.
Waters has increased her lead over Navarro in every successive election they have fought. She won with 76.1 per cent of the vote in 2016, and 77.7 per cent in 2018. Navarro maintains he will "beat her and shock the world" in 2020.
I am running against Maxine Waters in 2020. I will beat her and shock the world. #Navarro2020🇺🇸 #MAGA
Reached for comment, Navarro said the recordings provided to this publication were "illegal" and "currently under investigation." Tokes did not respond to repeated requests.
Milo Yiannopoulos is an award-winning investigative reporter and the New York Times-bestselling author of DANGEROUS.