"Drag Kid" Desmond Is Amazing delivered a headlining performance at a sleazy Brooklyn gay bar on Dec. 1, where the ten-year-old boy danced on stage in a crop top and full face of makeup as a throng of adult men in the audience showered him in dollar bills.
The event, called Club Whoa! was hosted at Brooklyn gay bar 3 Dollar Bill and was promoted on social media. Desmond also celebrated the performance on his own Instagram page, which has 105,000 followers. Adults who wished to watch a half naked child dance in a bar could buy tickets on an Eventbright page in which the venue described itself as "queer owned & operated we foster a safe space from love. we respect all human persons as long as those human persons are also respectful to the ones around them."
Photos of the event show Desmond in a blond wig, makeup, and crop top collecting monetary tips from adult men in the audience, like a stripper, as other half naked adult drag queens, some in panties and fishnet stockings, stood on stage nearby. YouTuber Yosef Ozia of Ozia Media called attention to the disturbing performance in a video he posted Friday afternoon.
A day after the performance, one reviewer on Yelp! wrote: "I left after seeing a child dance on stage for money at nighttime. This was on Saturday night and I have been feeling disturbed ever since."
Another reviewer said the club has a "weird no cell phone policy."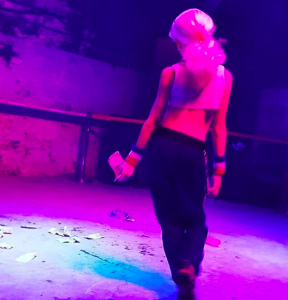 Desmond Is Amazing, a Brooklyn native, has become a celebrity in the drag queen world and LGBT community, and a little darling of leftwing media and gay lobbying groups. His parents have come under harsh criticism for their questionable parenting style. He became famous after video of him dancing sexually in a gay pride parade went viral. Desmond appears to spend most his time with adult gay men and crossdressers, with the full support and encouragement of his parents.
Last December, the child even appeared on a YouTube show hosted by drag queen Michael Alig, who was just released from a 17 year prison sentence for killing and dismembering his drug dealer. Alig was the subject of the 2003 film Party Monster staring Macaulay Culkin. In that video, Desmond is seated directly beneath a piece of artwork with the word "Rohypnol" is painted largely. Rohypnol, known as "roofies," is a date rape drug.
Chadwick Moore is a journalist, political commentator, and editor-in-chief of DANGEROUS, currently working on his first book. He tweets at @Chadwick_Moore.