The Horror! Mainstream and alternative media buzzed with the "outrage" perpetrated by the apparently thoughtless First Daughter. Tiffany Trump reportedly held up a fashion show in New York as Secret Service detail swept the venue before allowing her to take her place, front and center. Tiff was reportedly 45 minutes late for the 11:00am show of her favorite designer, Taoray Wang.
Tiff reportedly waited patiently with everyone else while the sweep took place. As the show started, Secret Service agents positioned themselves immediately behind her, looking suitably grim and threatening. For fun, see if you can spot the Federal Agent in the below photo.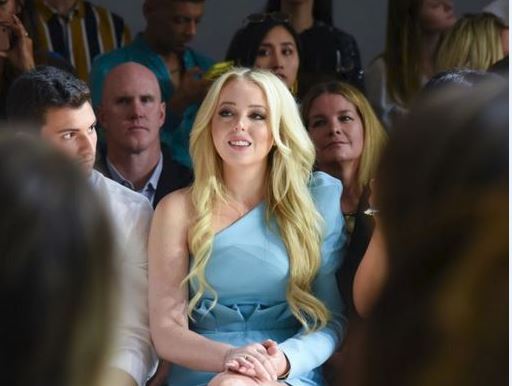 Tiff's inability to keep to everyone else's schedule didn't seem to bother designer Wang in the least. Wang was thrilled to have Tiffany's support for her Spring/Summer 2019 "Bloom" line, and seemed more than happy to hold the show until Daddy's Little Girl was good and ready to take a seat and start snapping away on her cell phone like the rest of the audience. The Chinese designer took to Instagram to personally thank Tiff for attending.
261 Likes, 9 Comments – TAORAY WANG (@taoraywang) on Instagram: "Thanks Tiffany for attending our 19ss runway show! You look absolutely stunning! You are so…"
Honestly!  This appears to be yet another entirely manufactured "scandal" pushed by those who will grasp at any opportunity to attack the President and his family, once again trying to create "outrage" where none exists.  Tiff's late arrival seems to have bothered no one but the Lefties in the media.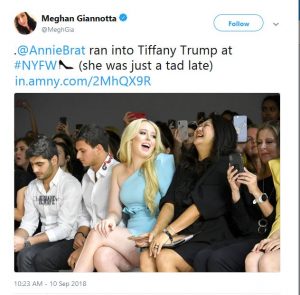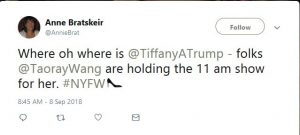 Our advice to the Butthurt Brigade?  Get over it, Bitches!  When your Daddy becomes the Leader of the Free World, you can show up late to events and have people suck up to you, too. Next time, bring a snack, in case its a long wait.