Nine-year-old Queensland schoolgirl Harper Nielsen has created a stir after refusing to stand for Australia's national anthem, claiming protest in solidarity with Australia's indigenous peoples.
Nielsen contests the opening line of the national anthem, "Australians all let us rejoice, for we are young and free", claiming that the sentiment reinforces institutional racism. "When it was originally written, Advance Australian Fair meant advance the white people of Australia", she said in an interview with Australia's ABC. "And when it says 'we are young' it completely disregards the indigenous Australians who were here before us for 50,000 years."
Nielsen's parents support their daughter's protests. Her father, Mark Nielsen, told CNN, "I'm amazed at her capacity for seeing things that don't feel right and having the strength to try and right them…I'm just incredibly proud".
While others have congratulated Nielsen on her courage and willingness at a young age to question authority and make a stand for what she believes in, others have criticized her nonparticipation as being disrespectful, saying that the school should take action. "Refusing to stand disrespects our country and our veterans", Jarrod Bleijie, a member of Queensland Parliament, said on Twitter. "Suspension should follow if she continues to act like a brat." He also castigated Nielsen's parents for using their daughter as a "political pawn".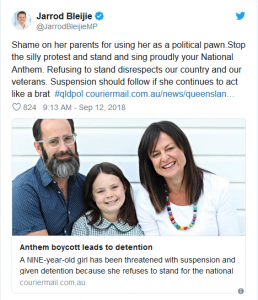 Pauline Hanson, the controversial Queensland senator and leader of Australia's One Nation party has reprimanded Nielsen, also labelling the schoolgirl "a brat." In a video posted to social media, Hanson claimed Nielsen has been "brainwashed," and that "This kid is headed down the wrong path and I blame the parents for it, for encouraging this."
9 YEAR OLD REFUSES TO STAND FOR NATIONAL ANTHEM "Good on the school for trying to instill the respect for our National anthem and pride in our country." @PaulineHansonOz Join the conversation on Facebook: https://t.co/DREXBZlKip https://t.co/cdMtd300it
Many Australians have taken the opportunity to virtue signal along with Nielsen in Kaepernick-style solidarity: the hashtag #ISitWIthHarper is trending on Twitter. The Queensland Department of Education released a statement denying Nielsen would be threatened with suspension for her protest.
Ann and Milo Live runs from November 29 to December 11, presented by Australian Events & Media. Tickets on sale NOW.
Jacinta West is Australia correspondent for DANGEROUS.