Australian cartoonist Mark Knight has deactivated his Twitter account in response to a torrent of SJW abuse including death threats after his illustration of Serena Williams's meltdown at the US Open last week was deemed "racist and sexist."
The cartoon, appearing in the Herald Sun, depicted the tennis champion throwing a hissy fit on the court, stomping on her racket, while the referee in the background asks opponent Naomi Osaka if she could just let Williams win. On the ground next to Williams is a pacifier, or what the Aussies refer to as a "dummy." Australians value sportsmanship and recoil at sore losers: the image is clearly depicting what Aussies call "Spitting the Dummy," a childish temper tantrum.
The global SJW brigade came for Knight immediately, calling him racist and sexist, claiming that his portrayal of Williams promotes the "angry black woman agenda". According to his critics, Knight worsened things by "whitewashing" Williams opponent by sketching her as "a faceless blonde". Celebrity SJWs Kathy Griffin and J.K. Rowling were among those chiming in.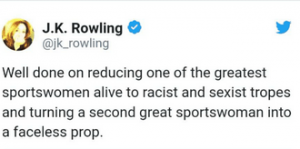 Many also tweeted in support of Knight, echoing journalist Andy C. Ngo's sentiments: "I worry about a world the SJ ideologues are creating where we can't be critical of people who aren't white."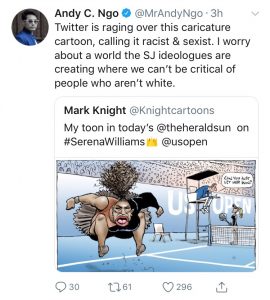 "It had nothing to do with gender or race," cartoonist Knight explained in a video released in response to the criticism. "The cartoon about Serena is about her poor behaviour on the day, not about race. The world has just gone crazy." The Herald Sun, in defense of its cartoonist, republished Knight's Serena illustration along with other political cartoons on the very cover of their newspaper, with the headline, "Welcome to PC World". This "defiant front page" claims, "If the self-appointed censors of Mark Knight get their way on his Serena Williams cartoon, our new politically correct life will be very dull indeed."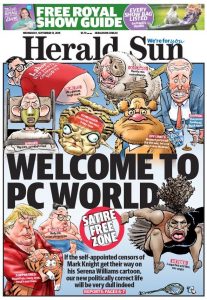 This latest example proves the culture wars and PC hysteria are alive and well Down Under.
Ann and Milo Live runs from November 29 to December 11, presented by Australian Events & Media. Tickets on sale NOW.
Jacinta West is Australia correspondent for DANGEROUS.