Designer Taoray Wang takes pride in dressing Daddy's Little Girl for both official appearances and for nights out with friends. Tiffany Trump even wore Wang for her official White House portrait. TT is generous in her praise, often thanking the Chinese designer and "sending [her] love!"
Wang became one of Asia's hottest designers in the 2010s and debuted her line stateside at New York Fashion Week in September 2014. And it appears Tiff isn't the only "Trump Girl" that Taoray Wang is dressing these days.  Don Jr.'s main squeeze, former Fox News host Kimberly Guilfoyle, is featured on the designer's Instagram page, too. Way to keep it in the family!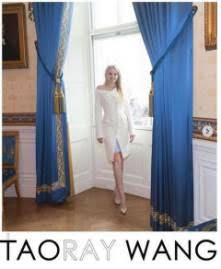 Tiff's Official 2018 WH Portrait.  Tiff wears Wang for the 2018 WH Easter Egg Roll and for her official WH Portrait, stunning in TAORAY WANG Gemini white dress (FW18). Exclusive images from the White House official photographer Shealah Craighead before the #eggroll2018.
Tiff with Bestie Karen Shiboleth.  Eye-catching baby blue, TT in Wang's signature cutting trousers, looking absolutely stunning!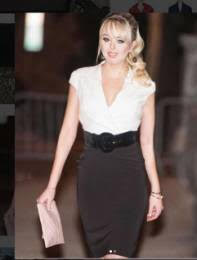 Tiff at 2018 SOTU.  Tiffany looking stunning in her perfectly befitting Taoray Wang dress at the State of Union 2018.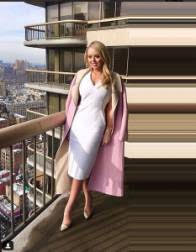 Tiff Pretty in Pink. Taoray Wang pink cashmere coat white gown (FW17). Wang posted on Instagram, "An impressive and splendid image! We're always moved by her enthusiasm and generosity. We cheer for Tiffany's charisma."