Last Halloween, college freshman Justine Brooke Murray decided to dress up as First Lady Melania Trump.
Big mistake.
"I didn't believe this until [my] friends recently took me there, just so I could be told that I actually wasn't allowed," she wrote in an e-mail to DANGEROUS.
The fancy dress outfit got Murray barred permanently from an entire dorm floor she visited that night.
"Residents called the RA so he could deport me back to my own floor," she said. 
It turns out, Murray had unknowingly stumbled onto the "Multicultural Living Learning Community," in the Lawrinson dorm devoted to "diversity," at Syracuse University.
"Afraid that I would [file a bias complaint], the RA quickly stated that I'm allowed on the floor as long as I refrain from dressing up as anyone who has 'discriminated against a marginalized group,'" Murray said. 
But that wasn't the whole story. In a hilariously smug and back-handed e-mail addressed to Murray, the RA, whose official title is Director of Residence Life at the dorm, informed Murray on resources where she could get information on "diversity of thought and identity." He also informed her "I enjoy your ability and your capacity to stand in your truth for what you believe in the great thing about belief is that you don't need facts to support them."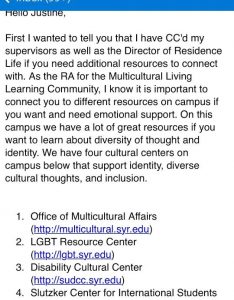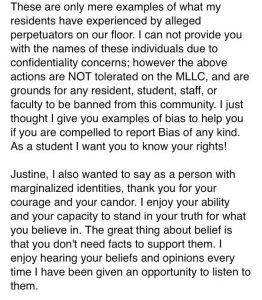 In a brief video Murray shared with DANGEROUS, a student on the floor attempted to explain why supporters of Trump were not welcome on the multicultural dorm floor, but fell flat. 
"Because this is the multicultural floor and if you're a Trump supporter you don't really respect us, and that gives us the right to–" the student says, trailing off.  "You're trying to take away our rights."
Syracuse University did not respond to requests for comment yet it appears the First Lady joins the rapidly expanding list of unacceptable Halloween costumes on campus.
In the school's mission statement, Syracuse University says it strives for "diversity" and on aiming to "empower students to put their learning into action on campus and in the community."
In the University's snappy OPPORTUNITIES acronym, the "U" boldly stands for, "Unite students from diverse populations."
DANGEROUS suspects one of the "I"s may stand for "Ignorance is Strength."