In the 1980s and 90s, psychologist Ray Blanchard worked out that transsexuals fall into two main types: homosexual and non-homosexual.
Homosexual transsexuals may be gay males or lesbians. Dr. Blanchard coined the term "autogynephilia" in 1989 to describe the non-homosexual transsexuals, a group comprised of heterosexuals, bisexuals, and asexuals. Asexual, in this sense, means they are only attracted to themselves). Autogynephilia is a self-induced, chronic, progressive disorder that is almost exclusively a male condition.
What's the difference between transgender and transsexual?
If you're wondering why we now refer to the transgender movement, instead of the transsexual movement, there are two reasons.
First, "transgender" is an umbrella term that includes everyone from those who only declare they are the opposite sex, but continue to present according to the sexual stereotypes for their birth sex, to transsexuals who undergo surgeries and take hormones to become a facsimile of the opposite sex.
Second, transsexuals won their battle for acceptance in the twentieth century when they persuaded most states to corrupt their ID laws by allowing transsexuals to change their name and sex on their birth certificates. That's why most proposed bathroom laws use the sex recorded on birth certificates as their standard for who is admitted to sex-segregated spaces.
Most transgenders have an entirely different battle because they want to keep their genitals intact while being socially and legally recognized as the opposite sex. This includes autogynephiles.
Sexual fetishes and autogynephilia
The boys who will become autogynephiles as adults cannot be distinguished as transgender in childhood, as teens, as adults—not ever, unless they are caught or they come out. Most are rough-and-tumble boys. At puberty, they become sexually attracted to girls. As adults, they usually marry and have children, sometimes several children, if they have a pregnancy fetish, which is common among autogynephiles.
Sexual fetishes occur almost exclusively in men, and men who have one sexual fetish usually have several, according to psychologist J. Michael Bailey, in his paper, "What Many Transgender Activists Don't Want You to Know: And Why You Should Know It Anyway." 
Speaking of fetishes, British transsexual Miranda Yardley, who campaigns courageously for transgender-identified men to admit they are men and stop trying to define themselves as women, explains the four types of autogynephilia in the Blanchard typology: transvestic, behavioral, physiological, and anatomic.
Those four types translate to autogynephiles who are sexually aroused by various combinations of dressing as women; behaving according to their fantasy of how women behave; fantasies of having female body functions such as periods, PMS, and pregnancy (which are also transgender porn genres); and anatomic, which is fantasies of having female body parts, such as breasts.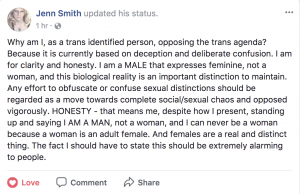 What are the stages of autogynephilia?
The seeds of autogynephilia are sown shortly after puberty when a teenage boy realizes he is aroused by female undergarments, usually belonging to his mother or sister. When he has the privacy to do so, he steals the undergarments, strips naked, and masturbates while looking at himself in the mirror. This becomes a ritual and by his mid-twenties the effect is that his primary sexual and romantic feelings are directed at the thought or image of himself as a woman.
As the autogynephile continues his masturbation ritual and elaborates on it in his thirties and forties, he begins to think he IS a woman. Anne Lawrence, an autogynephile, psychologist, sexologist, and anesthesiologist, who writes about autogynephilia, calls this process, "becoming what we love," since the autogynephile has both sexual and romantic feelings toward the image or thought of himself as a woman.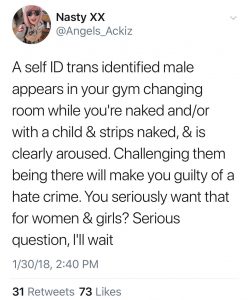 Dr. Lawrence notes that the rates of autogynephilia are highest in individualistic countries and lowest in collectivist ones. Although he doesn't make this connection, I think it's reasonable to look into whether teenage boys with lots of privacy and idle time are most likely to succumb.
By his thirties, the autogynephile goes out dressed as a woman to be admired in public by others. He is sexually aroused by entering spaces reserved for women, not just because of his sexual attraction to women, but also because he enjoys forcing women to confirm his fantasy that he is female. He is gleeful that the crime he is committing is just being there.
It is likely that the old timetable for the stages of progression of autogynephilia no longer holds. Now teenage boys and young adult males are coming out as autogynephiles in social media, although they weasel out of saying so by claiming they are lesbians instead.
Then they heap insult on injury by demanding that real lesbians have sex with them because it will validate their fantasy that they are women, although that's not the way they put it. They say lesbians must have sex with them to prove they are not transphobic.
Threats to call someone transphobic are an important weapon for silencing opposition to the transgender coup. Transgender activists have made accusations of "transphobia" grounds for getting fired from your job, and they bombard the employers of their targets with complaints.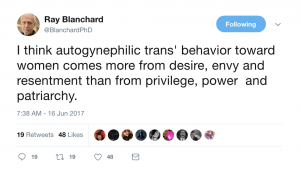 Autogynephiles tend to not take "no" for an answer when they demand sex from lesbians. They denounce being sexually rejected by lesbians as the "cotton ceiling" and call lesbians "vagina fetishists" for refusing their "lady dicks." They tell lesbians they have a duty as feminists to include men in the definition of lesbian and have sex with them. They chant, "Trans women ARE women."
But trans women are not women. Trans women are transgender-identified men. They are facsimiles in a facsimile group, which is posing as a rights movement to commit rights piracy on women.
Why the narcissistic rage of autogynephiles explains the tactics of transgender activists
Autogynephiles are using a wide array of weapons to impose their will that the world must legally and socially affirm they are women. Dr. Lawrence locates their most potent weapon of all—narcissistic rage:
In the case of nonhomosexual [male-to-female] transsexuals, this unrealistic sense of self [characteristic of persons with narcissistic disorders] might include the belief that one passes undetectably as a woman, despite having unmistakably masculine physical characteristics; that one has a ''female brain'' in one's male body, despite having male-typical interests and attitudes; that eroticism had nothing to do with one's gender transition, despite an extensive history of cross-gender fetishism; and that one is exclusively sexually attracted to men, despite a past history of attraction to, and sexual activity with, women.
Sadly, Dr. Lawrence then goes on to validate the narcissistic rage of autogynephiles as an "effective response for reconstituting a damaged sense of self" and advises "sensitive, respectful treatment" that is exactly the same as enabling their false beliefs so they won't punch you out, get you fired, threaten your children, and destroy your life.
Dr. Lawrence gave this advice in the context of validating why autogynephiles led a years-long campaign against psychologist J. Michael Bailey due to their objections to his book published in 2003, The Man Who Would Be Queen.
Dr. Bailey traced the life trajectories of three effeminate males: a gender dysphoric boy who grew up to be a masculine gay man, a homosexual transsexual prostitute, and an autogynephile. A group of autogynephiles tried to get him fired, fabricated claims to get him stripped of his license to practice, and published photos of his young children online with threats. Miraculously, medical historian Alice Dreger proved the charges were bogus and saved Dr. Bailey's career.
The truth about why autogynephiles demand access to women's restrooms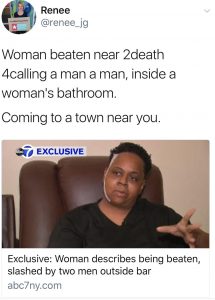 Autogynephiles aren't forcing their way into women's restrooms because they just have to pee. Autogynephiles want into women's restrooms because simply crossing the threshold sexually arouses them.
Autogynephiles want into women's restrooms because being there lets them think real women accept them there as women, therefore they are women. The truth is those women read him as a man who will beat them senseless if they point out he's a man.
Autogynephiles want into women's restrooms because if they can establish in law a right to be there, penis intact, fetishes ignored, that defines them legally and socially as women.
And above all, autogynephiles are men who want inclusion in the definition of women to fulfill their sexual fantasies no matter how many women they have to exclude from it, or what they have to do to get there.
Cynthia Yockey covers transgender issues for DANGEROUS and is the author of War in the Women's Room: How to Get Men in Dresses Out of Women's Spaces, Save Your Children from Confusion About Their Sex, and Undo the Transgender Coup, forthcoming from DANGEROUS Books.
She came out as a lesbian in 1971 as a student at the University of Michigan and became a fiscal conservative and registered Republican in 2008. Yockey's research and independent jouranlism is funded entirely by readers. Please help support her work by clicking the Donate button below. 
Feature image: The Danish Girl (2015)