Manchester Art Gallery in the U.K. has removed one of the most recognizable pre-Raphaelite works of art from its walls following an outcry from feminists. 
Created in 1896, the Romantic-era painting by John William Waterhouse, titled Hylas and the Nymphs, depicts seven, nude female nymphs in a lily pond seducing a young man to into his demise.
The gallery questioned whether, in today's political climate, the imagery may be offensive to contemporary audiences, reports The Guardian.
The painting was removed Friday, and the gallery installed a sign letting art-lovers and feminist crusaders alike know that the decision is meant to, ""to prompt conversations about how we display and interpret artworks in Manchester's public collection."
Clare Gannaway, speaking to the Guardian, said the decision came in the wake of the #MeToo and #TimesUp movements, attempting to exposed and end sexual misconduct against women in the entertainment industry.
The painting hung in a section of the gallery with plenty of 19th century female nudes, titled, "In Pursuit of Beauty."
Gannaway lamented male artists fascination with women's bodies, and paintings that presented the female body as a "passive decorative art form or a femme fatale," reports the Guardian.
"For me personally, there is a sense of embarrassment that we haven't dealt with it sooner. Our attention has been elsewhere … we've collectively forgotten to look at this space and think about it properly. We want to do something about it now because we have forgotten about it for so long," Gannaway said.
Where the painting once hung, gallery-goers have taken to leaving Post-It notes sharing their views on its removal.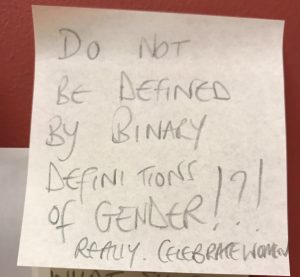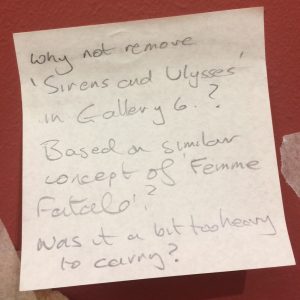 In January, the gallery posted a video to Twitter of an obese black man in white face and wearing a woman's dress parading around the In Pursuit of Beauty room, with the caption "Responding to the artworks on display…"
Responding to the artworks on display… and the audience! #merrychristmas https://t.co/L1CP58tRgV
The gallery has also ordered the removal of postcards featuring Waterhouse's painting from its gift shop. Waterhouse is one of the best-known artists of his era. His Lady of Shalott postcard is one of Tate Britain's bestsellers.
feature image via Sky News